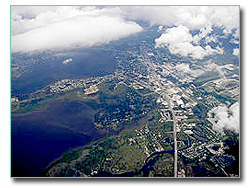 About Oldsmar, Florida
Oldsmar, Florida is centrally located in the Tampa Bay area, half-way between Tampa and Clearwater on the northern shore of Tampa Bay. As a result, Oldsmar has been given the name "Top o' the Bay" due to this great location.
Oldsmar, Florida was originally purchased by Ransom E. Olds in 1913, a pioneer in the automobile industry and namesake for both the Oldsmobile and REO brands. Olds originally named his city R. E. Olds-on-the-Bay" and in 1937 it was officially dubbed "Oldsmar". Though the name is gone, much of R.E. Olds' original city planning is still part of Oldsmar today. Citizens take pride in this city, every year hosting "Oldsmar Days and Nights". This event features parades, vendors and car shows showcasing, of course, the Oldsmobile.
While in Oldsmar, you can choose from activities like water skiing, snorkeling, swimming, fishing and boating, scuba diving, jet skiing and windsurfing, all are just a short drive away.
The city of Oldsmar is a lovely reminder of old Florida and the incredible beauty of this state. Oldsmar is also home to R.E. Olds Park, which is located on the shores of Old Tampa Bay and contains a 200-foot fishing pier, oak-shaded bayside picnic facilities and a children's playground.
The Upper Tampa Bay area remained largely undeveloped until the early 1980s, and today it is one of the fastest growing areas of the state. Home prices are at a all-time low in Pinellas county. Click here for Oldsmar Realty. Due to a number of unnecessary fatalities, Oldsmar has installed red-light cameras in the city. Please click here for details on the location of those red-light cameras.
---
---